11:00 AM - 3:00 PM Tuesday - Thursday
-Dine-In Only-
Not for Take-Out or Delivery
Gluten-Free & Whole Wheat Pasta Available
All entrées are cooked to order and include our delicious toasted garlic bread
SPAGHETTI, RIGATONI or PENNE
Served with your choice of Meat Sauce or Marinara
with one Meatball or one Italian Sausage Add $2
ANGEL HAIR with SCARDINO'S SAUCE
Made with fresh tomato sauce and Parmesan cheese
CHICKEN MARSALA
Breast of chicken with fresh mushrooms, spices and Marsala wine served with roasted herb potatoes and fresh Italian vegetables
CHICKEN PICCATA
Breast of chicken sautéed with wine, capers and lemon served with roasted herb potatoes and fresh Italian vegetables
EGGPLANT PARMIGIANA
Eggplant lightly breaded and sautéed, then baked with Marinara, Mozzarella and Parmesan cheeses
FETUCCINE ALFREDO
Served with white cream sauce
with Chicken and Mushrooms Add $3
ITALIAN SAUSAGE & PEPPERS
Made with bell peppers and onions served with spaghetti in a rich meat sauce
LASAGNA
Pasta layered with beef, Mozzarella, Parmesan & Ricotta cheeses in a rich meat sauce
PENNE PAPALINA
Pasta made with red sauce and a touch of cream
RAVIOLI • BEEF OR CHEESE
Served with your choice of Meat Sauce or Marinara
with one Meatball or one Italian Sausage Add $2
RISOTTO SPINACH and MUSHROOMS
Italian style rice made with steamed spinach and fresh mushrooms in a white cream sauce
TORTELLINI QUATTRO FARMAGGIO
Made with four cheese and white cream sauce
All salads are served with our delicious toasted garlic bread
• Featuring our own, spectacular Italian dressing – Unlike any other you have ever tasted •

MIXED GREEN SALAD
Mixed greens with Roma tomatoes, carrots, cucumbers and pepperoncini peppers
Scardino's Original ANTIPASTO SALAD
Mixed greens with Italian cold cuts, Provolone cheese, Roma Tomatoes, giardiniera and pepperoncini peppers
CAESAR SALAD
Fresh romaine tossed in our own special recipe Caesar Dressing with fresh Parmesan cheese and baked croutons
with Grilled Chicken Breast Add $3
INSALATA di CARCIOFI
Mixed greens with Roma tomatoes, artichoke hearts, black olives and shredded Mozzarella cheese
INSALATA di SPINACI
Fresh baby spinach with dried cranberries, crumbled Feta cheese, fresh mushrooms and pine nuts tossed with our own world-class Italian dressing
WARM GRILLED CHICKEN SALAD
Mixed greens with Roma tomatoes, black olives, carrots, cucumbers, fresh mushrooms, shredded Mozzarella cheese and pepperoncini peppers
with one Meatball or one Italian Sausage Add $2
Enjoy with our delicious toasted garlic bread
Homemade ITALIAN VEGETABLE PASTINA
with Mini-Meatballs
All sandwiches are prepared on a freshly baked Italian roll
CAPRESE Sandwich
Fresh sliced mozzarella cheese, Roma tomatoes and fresh basil drizzled with extra virgin olive oil
CHICKEN PARMIGIANA Sandwich
Breast of chicken lightly breaded and sautéed in wine, then baked with Marinara and Provolone cheese
ITALIAN SAUSAGE and CHEESE Sandwich
Mild Italian sausage covered in rich hearty Meat Sauce and melted Provolone cheese
ITALIAN SAUSAGE & PEPPERS Sandwich
Mild Italian sausage lightly sautéed with peppers and onions.
MEATBALL and CHEESE Sandwich
Homemade Italian meatballs covered in rich hearty Meat Sauce and melted Provolone cheese
SCARDINO'S ITALIAN Sandwich
Italian cold cuts and Provolone cheese with pepperoncini peppers, lettuce, tomatoes and our own Italian dressing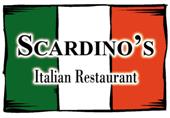 Hours
Monday — Thursday • 11:00 am – 9:00 pm
Friday & Saturday • 11:00 am – 10:00 pm
Sunday • 11:00 am – 9:00 pm
2019 Scardino's Italian. All Rights Reserved.