Our Gourmet Early Supper
Special arrangements must be made for parties large than 6.
Not available on Holidays or Holiday Weekends.
No Take-Out or Delivery
3 Course Italian Dinner
Including Beverage
• Served 7 Days •
11:00 am – 4:00 pm
All orders must be placed by 4:00 pm
Late arrivals must order from the dinner menu. No separate checks.
$24.95 Per Person +tax
Your choice of
Soup or Mixed Green Salad
and
Toasted Garlic Bread
Your choice of one
Lasagna
Penne Papalina
Chicken Piccata
Chicken Marsala
Fettuccine Alfredo
Eggplant Parmigiana
Ravioli, Beef or Cheese
Tortellini Quattro Formaggio
Risotto Spinach and Mushrooms
Angel Hair with Scardino's Sauce
Spaghetti, Meat Sauce or Marina
Scardino's Award Winning Pizza, Small Size
Your choice of one
Coffee • Hot or Iced Tea • Lemonade • Soft Drink
• Glass of Wine •
Chardonnay, Chianti, Merlot or White Zinfandel
Your choice of one
Cannoli • Spumoni Ice Cream • Homemade Tiramisu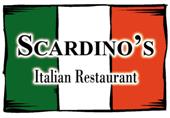 Hours
Monday — Thursday • 11:00 am – 9:00 pm
Friday & Saturday • 11:00 am – 10:00 pm
Sunday • 11:00 am – 9:00 pm
2020 Scardino's Italian. All Rights Reserved.